Model Makers are passionate about light Woods
Nordwest-Zeitung, Karoline Schulz, 14. August 2012
Resident of Ganderkesee sells Balsa Wood and Plywood throughout Europe - Company expanded in 2010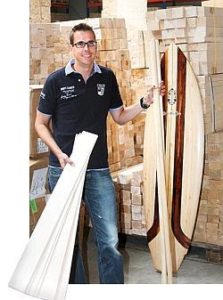 Lutz Stelling founded his company in Delmenhorst in 2004. In Ganderkesee he now has one of the largest stocks of balsa wood in Germany.
Balsa wood from LS Holz: When timber trader Lutz Stelling gets a new truckload of wood, no crane is required for unloading, a forklift truck is more than adequate. The wood is stored on Euro pallets. The raw material Stelling imports from South America weighs just 150 kilogrammes per cubic metre, less than cork. We are talking about the lightest wood in the world: the one from the balsa tree.
Balsa wood is primarily used for the construction of model aircraft, fishing floats, light door panels or table tennis rackets. Stelling sells the timber to processors, wholesalers and private customers throughout Europe from his premises in Ganderkesee. He has been located in the Westtangente industrial area since the start of 2010. The resident of Ganderkesee founded his import/export business in Delmenhorst in 2004. At that time Stelling, who was then working in purchasing and sales for a timber importer in Bremen, had the opportunity to take over the complete model building range of his employer, when the latter shut down his company.
With the support of four part-time workers, Stelling runs one of Germany's largest stocks of balsa wood in Ganderkesee. 700 square metres of hall space with a container platform for loading and unloading are available here. "I have to maintain high stock levels as the delivery times are relatively long", Stelling explains. It takes around three to four months until the balsa wood which has been ordered is delivered in the form of blocks, small boards or grain cut timber. Shipping alone takes four to six weeks.
The 36 year old has continued to expand his range. In addition to balsa wood he also supplies Finnish plywood for model aircraft, Italian poplar and ceiba plywood plus broom and implement shafts, which are imported from Brazil, Argentina, Ghana or Malaysia. He works together with the Delme-Werkstätten charitable organisation in some areas. Its employees make drilled holes in the broom shafts or attach barcode labels to the articles.
Trade with special timbers is flourishing - even though European modelling companies face cheap competition from the Far East with finished models being pushed onto the market. Now, some two and a half years since the company expansion, the warehouse in Ganderkesee is once again reaching the limits of capacity. Part of the stock was moved out in containers prior to the building work. "There is however space to grow", the business graduate tells us. He also plans to sell decking timber in the future.
The special timbers from Ganderkesee are now not only used in models, table tennis rackets or doors. You may have seen them on television or on the cinema screen. Stelling's customers include SFX-Studios from Berlin, which ordered the light timber for scenery construction. People also potter about with balsa wood from time to time at the Jona Kindergarten the father of two children reveals.